Product Feature
Tl2500, standard bucket with teeth, full hydraulic torque converter transmission, can be matched with yunnei, Xinchai, Cummins and other engines, air brake, can directly load and unload goods over part of the obstacles.The telescopic boom device can cross ditches, steps, doors and Windows for loading and unloading operations; Because of the negative amplitude Angle, it can also be used for ditching, repairing, leveling and other operations on the stop surface, so it is more suitable for use in field conditions.
Parameter
rated load capacity
2500kg
rated bucket capacity
1.2 m3
operating weight
6000kg
engine model

Yunnei YN33GBZ (STAGE Ⅱ)

Xinchai 4E30YG40 (EURO Ⅲ )

rated pOwer
65kw/55kw
dimensions
6500*2000*2860mm
Bucket hinge pin Height
4800mm
wheel base
2550mm
wheeltrack
1600mm
tyre size
16/70-20
System pressure
20Mpa
We've used only the very finest engine, driveline and axle components on the TL2500 telescopic wheel loader, from suppliers like XINCHAI and YUNNEI .

This TL2500 benefits from a strong chassis and the best weight distribution; this allows for maximum traction at all times.

We understand how tough materials handling can be, so we use a heavy-duty center joint which oscillates through ±40°ensuring reliability and durability in the toughest applications.

Rear lights are recessed within the counterweight for impact protection and hydraulic hoses are neatly routed, properly clamped, and positioned away from potential damage
Detail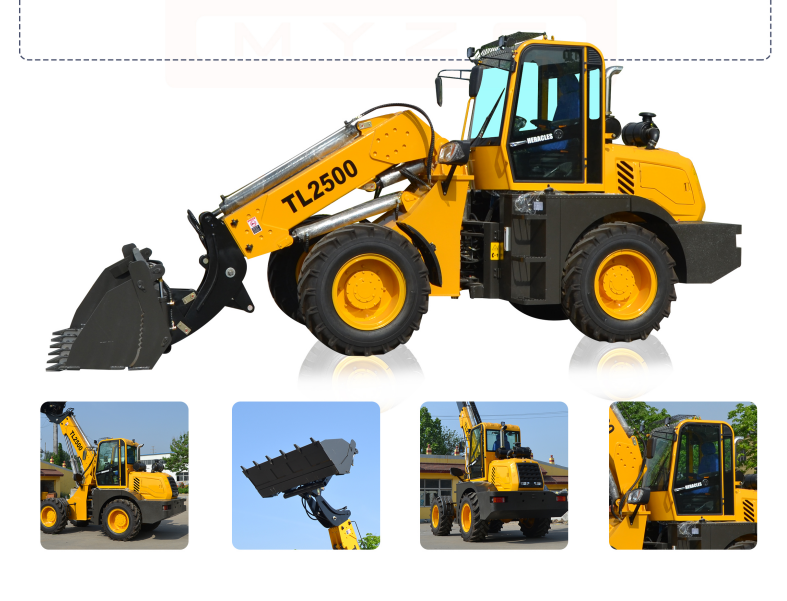 About us
MYZG machines are exported all over the world,about more than 130 countries.We use brand engine, the matching parts of the machine are easy to get,and the engine can be changed to many brand such as Yunnei, Huadong, Huafeng, Cummins, Changchai, Xinchai, etc.
MYZG have perfect after-sales service,and provide one year warranty .Our price is more competitive and the good service well received by customers.
Every machine produced by Mingyu has to undergo several rigorous tests, and it can be finally delivered to customers only after all tests are completed and qualified.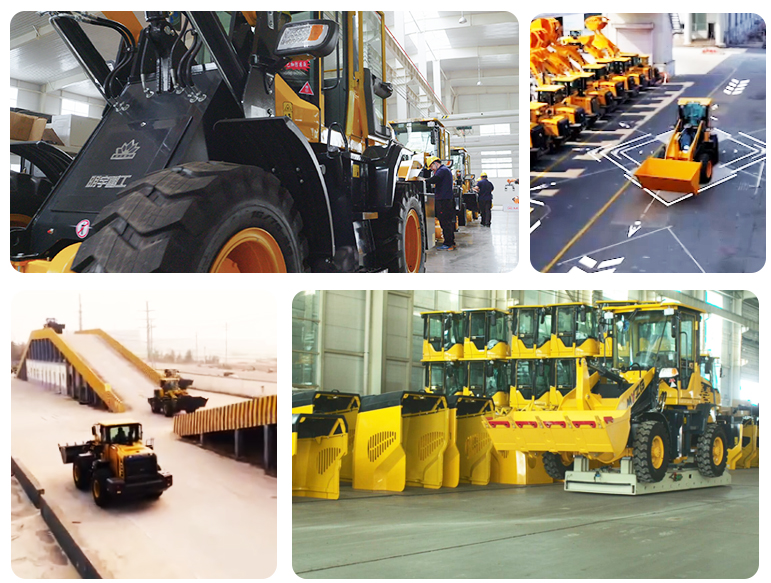 MYZG has 12 modern production workshops, with an annual production capacity of 80,000 units per workshop,more than 200 large and medium-sized advanced level equipment.We have advanced scientific research test facilities, intelligent inspection system.Automated and intelligent production, in order to build an industry digital factory.The whole production process is controlled by ERP system,MYZG machines are of excellent quality because we have very strict quality supervision and control.